President Trump recently placed a telephone call to Turkish President Recep Tayyip Erdogan, in large part to discuss future steps toward Middle East stability.  The call -- both the act and any promises made -- may turn out to provide something more vital and imperative: a critical rebound in the crucial relationship between the United States and longtime friend and ally Turkey.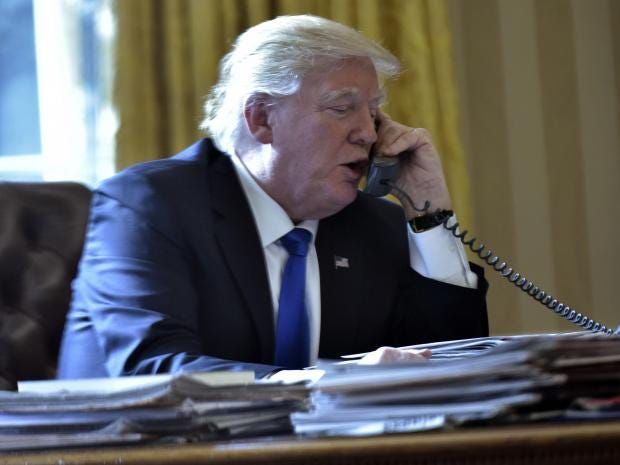 There are many top-shelf issues to discuss yet the one that may become the avenue for renewed cooperation sits in a small corner of Pennsylvania, a state that Trump carried easily and has provided him with continued political support for his unique agenda.  That focal point is Turkish cleric Fethullah Gulen – who resides in Pennsylvania – the head of a group of followers known as FETO by the Turkish government.
The Turks want him sent back to Turkey, calling him the key protagonist in the 2016 failed coup against Erdogan. The Trump administration is thinking about it.  And while it deliberates, there are signs of increasing pressure from federal authorities on Gulen's network of charter schools across the United States, how they function and, more where the money they raise flows.
"Like mobsters, they are being watched very carefully" by the Justice Department and others, waiting for the misstep, one longtime Turkish analyst said.
Any area the U.S. and Turkey can find to cooperate is critical. There are ongoing squabbles about U.S. support for the Kurds, a  three-month disruption of visa services between the two countries, the conviction of a Turkish bank executive in a U.S. sanctions-busting case that included testimony of corruption by senior Turkish officials, and Ankara's anger at a new U.S. travel advisory announced by the United States, urging citizens to reconsider travel to Turkey "due to terrorism and arbitrary detentions," among other rifts.
On Thursday (January 11), Turkey made clear why a deal on Gulen is the lynchpin: Erdogan said Turkey will not extradite any suspects to the United States if Washington does not hand over Gullen.
"The United States does not listen to us, but it listens to the PYD/YPG. Can there be such a strategic partnership," he said. Turkey is not a country that will be tripped up by the United States' inconsistent policies in the region," Erdogan said.
Trump and Erdogan have many similar characteristics, which make the potential for a working relationship strong – as well as dicey. One reality suggested by experts is that Trump could win positive support from Erdogan by seriously considering the question, then putting pressure on the charter school network to render it impotent.  That avoids any messy issues arising from an extradition but still shows the U.S. is willing to cooperate.
For decades the U.S.-Turkish relationship has been a keystone to how well America can work in the Middle East, with Turkey's one-time harmonious relationship with Israel to its more recent rapprochement with the Iraqi Kurds giving strength to U.S foreign policy.  The now frayed relationship stood teetering on the cliff and the two leaders seem to recognize its need to be restored.
"The (Trump administration) needs to acknowledge when anti-Americans is high in Turkey and looking for ways it is possible where they can be agreement will go along the way to helping long-term policy," one expert said.
Debate remains ongoing whether Gulen's followers had succeeded in infiltrating Turkish state institutions – including the armed forces – over a number of decades. There is also a range of thought among independent observers as to whether Gulen and his group were participants or behind last year's coup attempt in Turkey.
There is no disagreement among Turks however. Up to 90 percent of Turks believe Gulen was behind the coup, with many also believing the CIA – which allegedly helped Gulen get into the United States – was supporting the coup.
"Whether the Turkish government provides sufficient evidence to the Justice Department is irrelevant. It is the way Turks view this," the first expert said.
What there is little disagreement on is how, in the past, both the Turkish and U.S. governments turned a blind eye to the organization "when it suited them."
It now may be the day when it no longer suits either government to turn a blind eye to the cleric -- and a chance for Trump to make good on his tough stance against terrorists while meeting a demand from a onetime ally with whom he shares significant philosophical approaches to governing.
At the same time, Trump can show he takes action on the threat of possible homegrown terrorism by cracking down on any money laundering from the charter schools.
In short, it can provide a convenient diplomatic pivot for the Trump administration as it begins year two in the White House, one that would likely face little domestic political opposition and offer the potential for positive publicity for the president.
And it also may improve relations with a temperamental, but still important, one-time ally.
The Turkish government formally requested the extradition of Gulen in 2016. The request, which seems to have been slow-walked, may take on new importance in a Trump Turkey gambit.  This uptick in consideration of the request comes as the FBI, according to CBS News, is investigating whether Gulen followers have skimmed money from his lucrative network of charter schools in order to fund his movement in Turkey.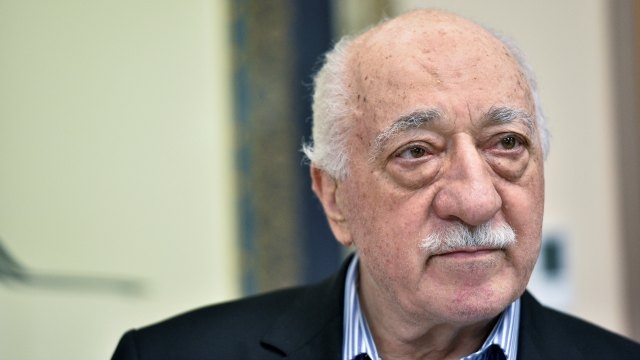 Last summer, Turkey's ambassador to the U.S., Serdar Kılıç, told reporters he sensed a "willingness" on the part of Trump administration officials to move forward on the extradition request. He also expressed frustration with the slow pace of those proceeding and suggested the U.S administration could take further steps outside the extradition process to censure Gulen.
Gulen's own movement has withdrawn a book where he justifies wife-beating "albeit as a last resort," describes Christianity as "perverted" and refers to America as "our merciless enemy."
At a forum sponsored by the Turkish Heritage Foundation, Lt. Gen. (ret.) Ismail Hakki Pekin, Nedim Sener, and Colonel Judge Ucok indicated that unless Gulen is extradited, FETO would continue to pose a real threat to Turkey and its allies.  Ucok said that while the view of the group outside of the U.S. is of a charitable, interfaith organization, its activities in Turkey over multiple decades prove a nefarious intent to take control of the Turkish state and have earned it the label of "terror organization," according to media reports.
Pekin, the former head of military intelligence, called on the United States to extradite Gulen, stating that "America has an obligation to assist its NATO ally in keeping the country stable. The United States needs to extradite Fethullah Gulen back to Turkey since he was behind the coup attempt in Turkey on July 15th."
The Gulen issue was not absent from the White House.  Former National Security Advisor Gen. Michael Flynn accepted legal payments from Turkish companies for researching Gulen and his U.S. network.
Flynn wrote a strong commentary about Gulen, noting "To professionals in the intelligence community, the stamp of terror is all over Mullah Gulen's statements in the tradition of Qutb and al Bana. Gulen's vast global network has all the right markings to fit the description of a dangerous sleeper terror network. From Turkey's point of view, Washington is harboring Turkey's Osama bin Laden."
When he realized he might be arrested in 1999, Gulen failed to obtain a preference visa to the US because, according to news reports, he was not an "educator" as he claimed but "the leader of a large and influential religious and political movement with immense commercial holdings." Nevertheless, he got a U.S. green card with three reference letters – from a former US ambassador to Turkey and two ex-CIA officials.
Trump has praised the Erdogan for his strength in the face of adversity and ignored the purges of civil servants and persecution of journalists, which have caused other world leaders to reconsider Turkey's place in the international order. The two often seem to emulate each other.
However if Trump ignores Turkey's repeated requests to arrest and extradite Gulen—or if he continues or even escalates American support for the Syrian Kurds, which Turkey strongly opposes and to which the two men also discussed —the relationship between the two countries could rapidly deteriorate.
"They can look for areas of agreement in Syria and elsewhere to reduce Turkey's reliance on Russia and Iran," a third expert said.  "They are a lot alike. As long as there are not personal insults, there is hope for the relationship."
Tom Squitieri
Journalist
TOM SQUITIERI is an award-winning journalist who has covered the Pentagon for three decades and was a war correspondent reporting on numerous conflicts.