Even though thousands of women across the United States are trying to break their company's glass ceiling by striving for equal pay in relation to equal work – Michelle Nunn is an excellent example of a woman who has been able to take on the world – and in some instances set a new standard due to her outstanding leadership roles in the Southern non-profit sphere and progressive politics.
The current President and CEO of CARE, an international humanitarian organization focused on rehabilitating people and offering up international aid, made headlines when she took on the role as the company's commander and chief executive after her public senate race loss just months before.
Even though this would be a huge career move for anyone, Nunn's start in the non-profit world began thirty years ago when she served as an executive director of what we now call a start-up in 1989, a position that clearly prepared her for her role as a CEO.  Nunn has shared that she was the only paid employee on staff at her first post-college job, HandsOn Atlanta. 
In an interview this past March with the Atlanta Business Journal[1] she expanded on that, and said, she felt like a "glorified intern" while working as the executive director of the non-profit start-up.
Now, many years later, looking at Nunn's career in public service, it seems like the role was one that laid the foundation for her humanitarian career in the southern state of Georgia, a non-profit hotbed that houses huge NGOs and Government agencies like the World Health Organization (WHO) and the Center for Disease and Control (CDC).
As time went on, her first job morphed into something bigger and in an interview discussing her role with the HandsOn Network, the organization that swallowed HandsOn Atlanta, she told TODAY SHOW correspondent, Al Rocker,[2] "I think the biggest lesson for me [… ] of my seventeen years with the Hands on Network, is that you can't underestimate your own power to make a difference."
"That every single individual has [an ability to make a difference.]", For Nunn, her ability transgressed past humanitarian work and into state-level politics. In 2014 she ran for the open Georgia Senate seat.
CARRYING THE TORCH – A VERY PERSONAL POLITICAL AGENDA
Nunn's father was a public servant as well as her mother.
Her father was a highly-regarded United States Democratic Senator for over two decades for the state of Georgia and Nunn's mother served a term in the foreign service before becoming a full-time caregiver of her two children, Michelle, and her brother.
When Nunn decided to take a leap of faith into uncharted territory for herself - political heavyweights and Democratic Party enthusiasts, believed the daughter of former Georgia Senator, Sam Nunn, had a great shot at winning the seat and making history. If Nunn had won the seat, she would have been the first female U.S. Senator from Georgia.
During her hiatus with the HandsOn Network, Nunn pounded the payment in the hopes of securing her father's old political chair – according to a New York Times article titled: Narrow Path to Senate for Michelle Nunn in Georgia.[3]
Nunn arguably lost because she couldn't secure a high enough number of white voters – a problem a lot of Southern Democrats have experienced.
"Most Democrats running for federal office in Georgia fall short of that…"
"To win, Ms. Nunn would [have needed] to perform as well as a strong incumbent, but she [had] not even run for office until now," the article stated while reiterating how lofty and difficult that would be.
In an interview with MSNBC's Joy Reid in 2014[4] during her campaign, Nunn tried to demonstrate how her background in motivating others and her personal passion for mobilizing volunteers would be advantageous in Washington.
But her goals, ambition, and desire to change the way Washington takes on issues between both parties didn't leave the state of Georgia. Nunn lost the race.
But instead of flailing her arms and hanging her head, the former Senate contender pivoted back to her roots: humanitarian work.
From an outsider's perspective, it seemed seamless and easy. Why? Maybe because she took some time off and listened to the advice of a reliable source – her son.
KIDDING AROUND OR CHILDISH BUSINESS
She told Atlanta magazine, "[Vinson] seemed to have a need to give me career counseling and job advice."
"He wanted me to move more quickly in finding a new job."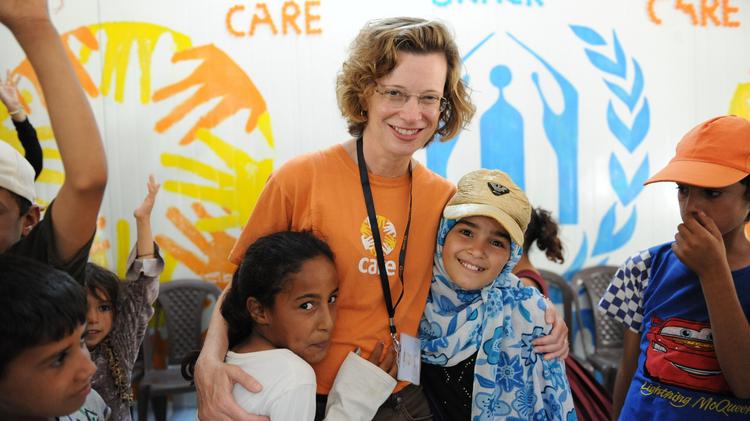 "You're good at basketball but too old to do something in that," Nunn said while adding that, her son told her, "You're good at reading. And you're good at helping people."
To run for her political post, she stepped down from Points of Light, which was an organization that merged with the HandsOn Network in 2007 to form one cohesive organization.
Even though it seemed like she was an easy choice for the CARE she had some stiff competition and what set her apart was her 2014 Senate seat attempt.
Nunn told the magazine, "The mobilization dimension of the campaign, getting people involved and talking them into the spirit of citizen engagement, I think that ties into CARE's work and its mission to galvanize global citizenship."  
"More pragmatically, 'grassroots organization, fundraising, and the policy issues of the campaign relate to the work of CARE,'" she said.
Now over two years into her position with CARE, it's easy to see Nunn's the perfect fit.  
STEPHANIE PARKER 
Political and Human Rights Journalist (New York